Javanaise Standard Hit
Edit
Javanaise is an unshielded base that is generally done as a direct core hit from 3 o'clock. Mortal hitters will generally use 3-4 shocks, but if you are feeling brave Java hosts one of the hardest shocks in the game (lowering the normal shock count to 2-3).
The Path
Edit
With this path you only need to clear one mine.
It is normally worth it to start of by picking up a little free GBE on the left side of the beach.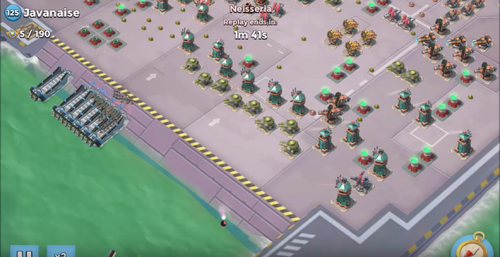 Place your flare on the bottom of the beach in line with the line next to the rightmost machine gun so that when the zookas turn up they head straight for the machine gun.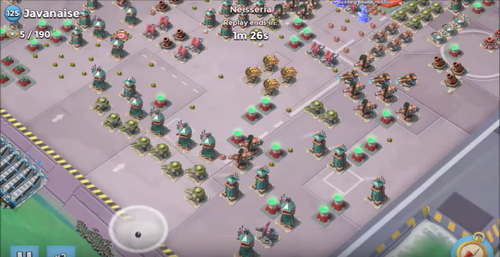 Throw your first smoke before flaring up. By doing this along with the proper flare placement you can take your time to scroll up and place your flare accurately.
Put the flare right next to where the shock launcher are. This will cause the zookas to form a single line.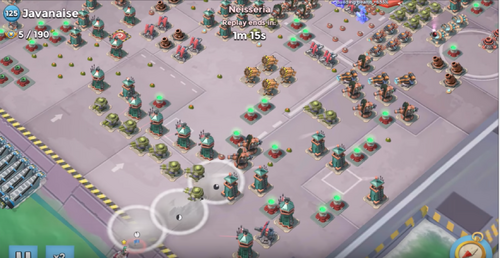 Drop Brick about when the zookas reach the machine gun.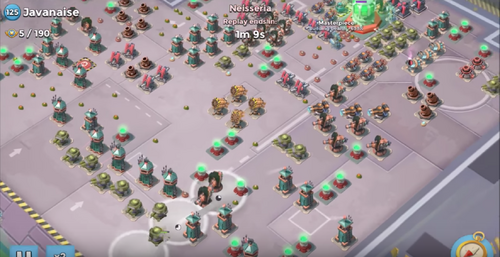 The zookas should form a single line after that first boom cannon and all stay to the left of the cell.
The will go between the pair of machine guns. This is a good time to reflare.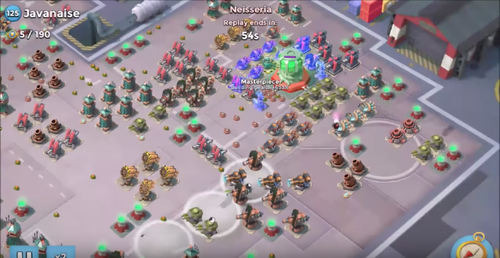 To the left of that boom cannon.
Finally move the Zookas to the 3 o'clock position
GBE Usage
Edit
| | Open Landing | Hot Landing |
| --- | --- | --- |
| Artillery | 1 | 1 |
| Smoke | 11 | 13 |
| Flares | 5 | 5 |
| BO | 1 | 1 |
| GBE to Core | 106 | 133 |
| 6 GBE | 4s, 1c | 3s, 1c |
| 5 GBE | 4s | 2s, 1c |
Note that this GBE usage is for a close to perfect attack. Even skilled players may find they use an extra smoke.